We adopted a kitten back in September. He and his two brothers were found in a bale of hay when they were approximately two weeks old. They were bottle-fed and cared for by a local vet. He has definitely found his way into our hearts and made his own unique place in our family.
He's not skittish, doesn't hide when people come to the house. He LOVES to go for rides in the car, climbing from the back window to the dashboard, trying to find the best place to see everything. He's the alarm clock for Corbin and me. At 6:00 every morning (weekends included), he jumps on the bed, climbs under the covers and attacks my feet. If that doesn't wake you up, I don't know what will. Then, at 7:00, he climbs onto Corbin's chest, puts his face in Corbin's and squeaks out a little "good morning" meow. I still haven't figured out why I get the claw punctures on my feet and Corbin gets the slightly wet nose and tickly whiskers on his face.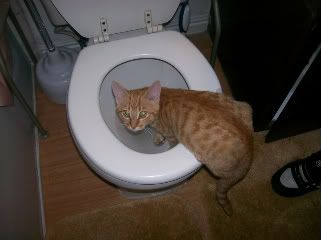 He won't drink from his water dish, instead preferring to drink from the toilet,a dripping water faucet, or someone's glass (which inevitably gets tipped over and spilled, or worse yet, shattered on the floor). He will spend hours sitting on the girls' dresser right next to the hamster cage, just watching Flower, our one-earred dwarf hamster. He will sniff her when she climbs up on the side of the cage to say "hello" to him, but he has never tried to claw her.
He loves to play with the girls. He's been known to jump onto Penelope's back so he looks very much like a furry, orange-striped backpack. He lies on the floor on his back, paws up in the air and freezes that way. With Corbin's help lifting him up to the eaves of the house, he will use both his little paws and pick small icicles off and lick them. Although, his favorite game seems to be escaping from the house and having us chase him through the neighborhood while he hides under cars, in trees and in bushes.
I think I've traced my affinity for cats way back to the womb. When my birth mother was pregnant with me, her cat would sleep on her stomach and purr all night. No wonder I haven't found anything as calming as a purring cat. We love you, Timmy!