Concerning my last post, I've decided to take my girls to see their father. As if there really was any question. I've taken these trips before... to Richfield several times... to Fillmore a couple times... gotta love The Middle of Nowhere, Utah.
Life has given me some lemons as of late. I'm bringing home about one-half the paycheck I was last fall due to cut in hours because of the bad economy. But I AM grateful that I still have a great, full-time job even if I don't get any overtime for awhile. I still have insurance benefits and my 40 hours a week. I still love my job and the people with whom I work. However,the fact that I'm barely squeaking by has me thinking about cheap yet fun things I can do with the girls this spring/summer/fall.
Because of my decision to take the girls to see their father, I've managed to give myself some lemons. However, I've figured out a way to make some lemonade out of this trip AND it will be CHEAP too! Gunnison (the city in which he's now incarcerated) happens to be on the way to a great place I've wanted to take the girls for a few years now... GOBLIN VALLEY! If you're not from around these here parts, you probably have never heard of Goblin Valley, so I'll explain where it is and post some pictures.
Secluded Goblin Valley was first discovered by cowboys searching for cattle. Then, in the late 1920's, Arthur Chaffin, owner/operator of the Hite Ferry on the Colorado River, and two companions were searching for an alternate route between Green River and Cainsville. They came to a vantage point about a mile west of Goblin Valley and were awed by what they saw - five buttes and a valley of strange-shaped rock formations surrounded by a wall of eroded cliffs.
Wind and water have carved fantastic and unique goblin-like sculptures out of rock, creating an outdoor playground that inspires the imagination. Numerous rocks and coves offer unlimited walking, exploring, or hiking opportunities. It is well worth the time to hike through the area for a few hours, to enjoy the desert beauty and fascinating comical goblin forms that you find here. Along the way, there are fine views of the San Rafael Reef and the Henry Mountains.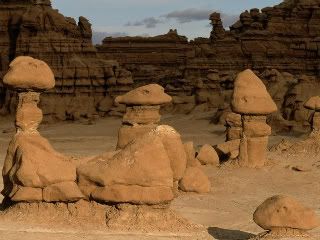 Goblin Valley State Park is located in Emery County between the towns of Green River and Hanksville. From Green River, travel west on I-70 for 12 miles to exit 147 (Hanksville) and head south. After about 30 miles turn right at the Temple Mountain/Goblin Valley Junction. The entire road leading into the park is surfaced and improved. Travel west on that road for about 5 miles and then turn left (south) and continue to the park entrance. Goblins of infinite design will greet you.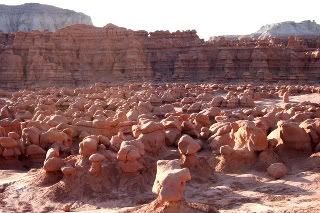 The park is a photographer's paradise. Near the park area, history buffs can discover rock art left by ancient Indians and ruins left by early prospectors, miners, and ranchers. There are also great slot canyons for adventuresome hikers.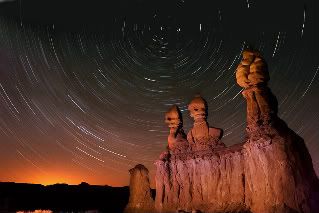 Hour and a half drive to Gunnison; two hour prison visit; grab a quick bite to eat at some local "mom and pop" drive-in; two and a half hour drive to Goblin Valley area; set up camp; cook some hot dogs over the fire; make some s'mores, tell ghost stories and go to bed. Next day, explore Goblin Valley, and if it's not raining or flooded, visit nearby Little Wild Horse Canyon too!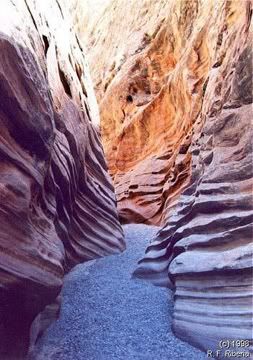 The Little Wild Horse Canyon/Bell Canyon loop hike is the most popular hike in the San Rafael Swell for good reason. The canyons are two of the best slot canyons in Utah. This hike is suitable for just about everyone. If you enjoy a long walk in the park then you can probably complete this hike with little problem. The canyons can be hiked individually for a short distance or connected together to provide an easy half day loop hike.
The Little Wild Horse Canyon/Bell Canyon loop hike is 8 miles round trip and will take about 4 hours to complete. Little Wild Horse Canyon is the better of the two canyons, so if you can only do part of the hike do Little Wild Horse.
The canyons can be hiked year round except when thunderstorms are possible. Spring and Fall are the preferred hiking seasons.
Corbin is coming with us also. I have to figure out something for him to do while the girls and I are at the prison. We'll figure something out...
We told the girls about our idea of making this a little weekend mini-mini-vacation (and I use the word "vacation" very loosely here), and they were ecstatic. They haven't been camping at all the last few years. Then we showed them pictures on the internet of Goblin Valley, and they got even more excited. I think they're going to have a lot of fun. I, personally, love Goblin Valley. It's one of the few outdoorsy places I like to visit (I'm an indoor kind of girl, ya know). I'll be sure to take 2.3 million pictures and post some of them here after our little trip.
Okay, I recant my previous derogatory statement about The Middle of Nowhere, Utah. It's not ALL desolate and creepy.