My sister and I made the journey to Sin City the first weekend in June for a retreat. The retreat was for people involved in several abuse-related websites. I first became a member of a certain verbal abuse website forum back in April 2003, and have gotten to know these people over the past six years. One of the amazing members of that website created her own forum a few years ago (http://thenextrightchoice.com/forums). Thanks, Carly! Then last fall there were some strange happenings on the original forum (that I won't name here) and the wonderful and wise administrators created their own website and forum and many of us jumped ship and made our way to Our Place (the link is at the top left corner of my blog just under the header).
Emily, Ken and I at Harrah's
The retreat was held at the Imperial Palace and arranged by Carly... Thanks again, Carly!
Carly winning "big"
There were a total of ten of us there. Two from the Southern California area, three from the Las Vegas area, one from Louisianna, one from Maryland, one from New York (via England via Australia), and my sister and I from Utah. It was so great to get to meet these amazing people in person after "knowing" them from the forum for so long. We rode to the top of the Eifel Tower,
went to the karaoke bar at the Imperial Palace,
At the Karaoke Bar
watched the fountain show at The Bellagio and toured the Bellagio gardens. We went to Fremont Street and enjoyed a free concert and the light shows.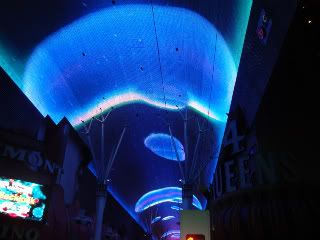 Rode the monorail and best of all, had a private brunch where we were able to all sit around and talk.
Brunch in the Koko Room
Everyone there was so warm, kind, intelligent, and fun. And everyone there was a survivor of domestic abuse. These beautiful people are a testament that there IS life after abuse and it's a GOOD LIFE.
It was a wonderful trip. I enjoyed driving down with and sharing a room with my sister. We haven't been to Vegas together since 1998.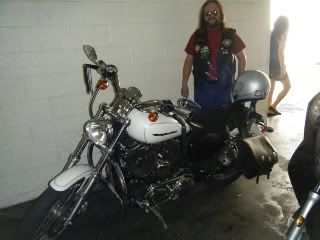 Ken and his Harley
LOVE his license plate!
I ended up gambling very little. I won about $10 on a Kenny Rogers slot machine, and then lost $20 in one quick swoop on the roulette table. All in all it was a great retreat.