Since I've been missing from the blog world for awhile, and there's no way to really catch up, I'll have to do a quick run-down on the highlights and/or lowlights of the past few months in a couple quick and possibly concise posts.
We headed to The Middle of Nowhere, Utah, so the girls could visit their father in prison. yay... The drive was only about an hour and a half and the visit actually went very well. The dude is still living in his own version of reality though. Still says he's hoping that I'll eventually take him back. I almost bit through my tongue to keep from laughing hysterically. Yep, dude, you can beat me down for SIX YEARS until I'm nothing but a shell of my former self... until I'm scared of my own shadow... until I have lost EVERYTHING... until I'm plagued by PTSD and a moderate form of agoraphobia... and you still think I'm going to "get over it" and give you the opportunity to do it to me AGAIN?!!! I practice forgiveness daily with this one. I practice taking responsibility for my own choices daily for the mess I allowed my life to become. I practice doing things outside my current comfort zone daily. And, most importantly, I practice NOT ENGAGING with a lunatic. I let him say whatever he wants and believe whatever he wants... he's not my concern anymore. Personally, I think he's brain damaged.
After the visit, we drove another hour and a half to another part of The Middle of Nowhere, Utah, to a cute little campground I found online, and stayed in a cute little cabin.
Thank goodness we didn't tent it, becase it was SNOWING. We did, however, cook hot dogs and s'mores in the fire pit. The girls did their native "Snow Go Away" dance around the fire... and sure enough, the snow stopped. We played Clue and Uno to pass the time without the beloved television. :)
The next morning we headed through Capitol Reef and stopped along the way several times to hike and take photos.
We then drove another hour and a half to yet another part of The Middle of Nowhere, Utah (most of Utah is The Middle of Nowhere). We hiked around Goblin Valley and had a lot of fun. It was the first time the girls had been there. They loved posing under...
next to...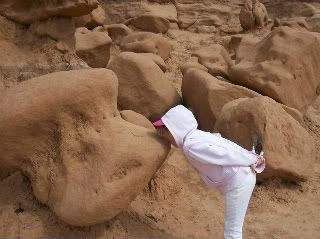 and on top of...
...the "goblins".
We drove out to Little Wild Horse Canyon and just when we got to the entrance, it started raining, so we bagged it and headed home.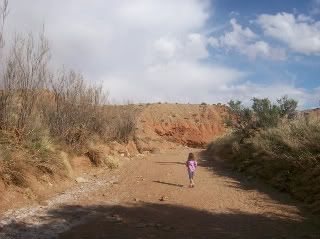 All in all, it was a nice mini-cation.